Baby food giant Gerber is getting into plant-based protein for the first time with the launch of Plant-tastic. The new line of seven items includes organic toddler snack pouches, crispy snacks and meal bowls (such as Vegan Mac), all formulated with plant-based proteins derived from beans, legumes, vegetables and fruits.
The new line helps Gerber capitalize on the growing plant-based trend that market research shows isn't limited to adults. According to a 2019 survey by Future Market Insights, 81% of households with children include plant-based protein in meals, and 40% of parents with children under 18 incorporate more plant-based foods. The Plant-tastic line is a carbon-neutral option certified by the Carbon Trust, helping Gerber achieve its climate goals.
"We hear from parents [that] they want more plant-based protein options that align with their food and climate values," said Gerber President and CEO Tarun Malkani. "Gerber Plant-tastic offers step-by-step nutrition through the stages, starting with organic toddler pouches, snacks and meals. We are proud that the entire line of Plant-tastic products are certified carbon neutral, which reinforces our commitment to climate-friendly nutrition.
The plant-based diet is suitable for all ages
Research has linked plant-based diets to numerous health benefits, including lower risk of developing type 2 diabetes, certain cancers and heart disease, and eating plant-based is recommended for all stages of life. In 2016, the Academy of Nutrition and Dietetics — an association of 100,000 medical professionals, the largest in the United States — published its official position on plant-based diets in its medical journal.
"It is the position of the Academy of Nutrition and Dietetics that properly planned vegetarian diets, including vegans, are healthy, nutritionally adequate, and may provide health benefits for the prevention and treatment of certain diseases," the Academy said. "These diets are suitable for all stages of the life cycle, including pregnancy, breastfeeding, infancy, childhood, adolescence, adulthood, and for athletes."
To help children thrive on a plant-based diet, Gerber formulated the Plant-tastic line – made with chickpeas, black beans, navy beans and lentils – with the new United States dietary guidelines that recommend legumes as part of a healthy diet for children under two years of age.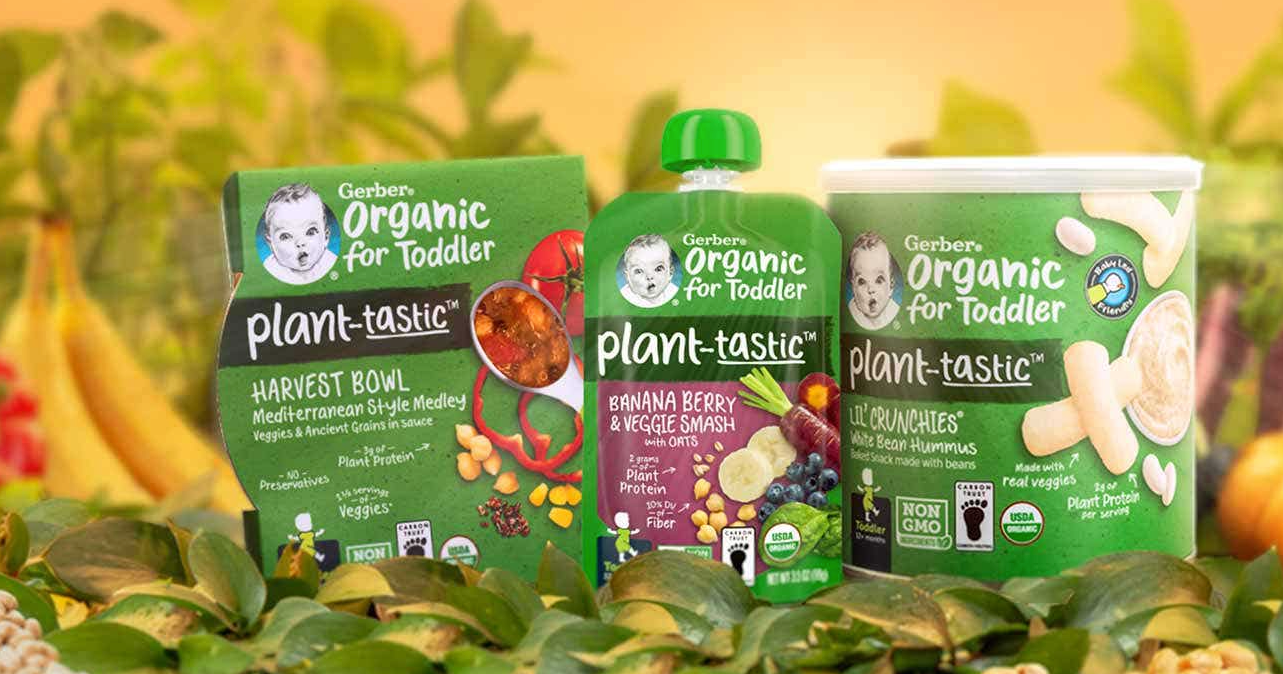 Gerber
"Many parents of my patients incorporate plant-based options into their own diets and seek to feed their babies in accordance with their own dietary values. For parents looking to incorporate plant-based choices, I recommend "feeding baby the rainbow" from a variety of foods. Gerber pediatric consultant Dr. Whitney Casares said in a statement. "Gerber Plant-tastic foods are made with beans, whole grains and vegetables, which are packed with nutrients like protein and fiber to support [a] healthy baby development.
From a psychological perspective, feeding children plant-based protein rather than animal products is also beneficial for their mental health. A new study by researchers at the University of Exeter has found that toddlers and children under 11 are more likely to see animals of all species as companions compared to adults who are socialized to believe that some animals are food while others are companions.
Nestlé launches into vegetable proteins
Gerber was acquired by Swiss food giant Nestlé in 2007 and is the latest of its brands to expand into plant-based protein. At a press conference in London last year, Nestlé CEO Mark Schneider explained that the company was actively seeking to "replace all existing animal protein" with plant-based alternatives.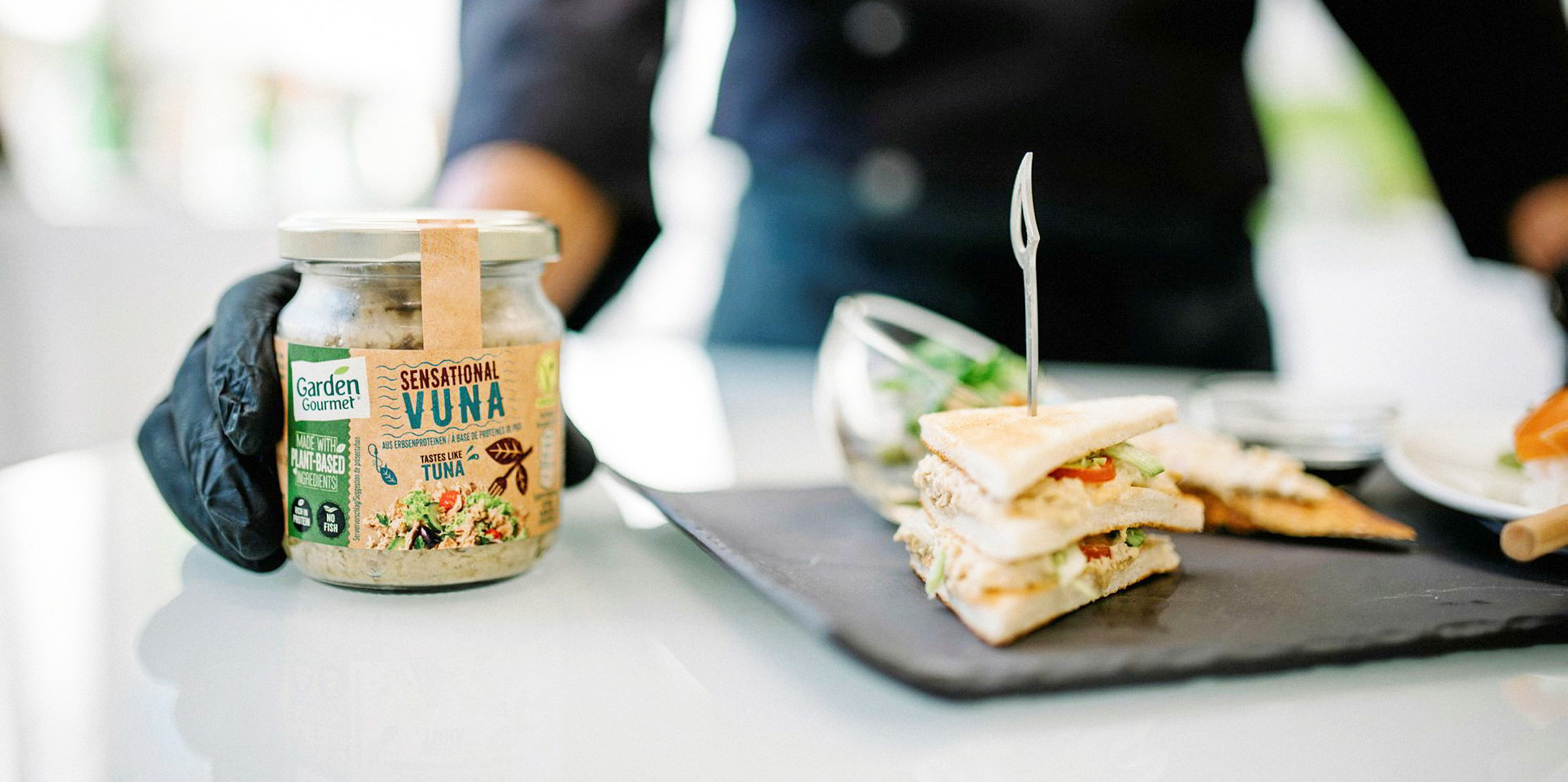 Nestle
So far, Nestlé has moved closer to that goal by acquiring Sweet Earth, a vegetarian brand known for its Benevolent Bacon, Awesome Burger and Mindful Chik'n plant-based meat alternatives; the marketing of vegetable proteins, in particular tuna, shrimp and eggs, under its Garden Gourmet brand in Europe; and investing in startup Sundial Foods to market vegan skin-on chicken. Nestlé is also interested in the emerging cellular agriculture industry and has invested in Israel's Future Meat Technologies to commercialize its cultured meat once regulatory approvals are in place.
To learn more about plant-based nutrition for children, read:
6 ways to get your kids to eat more vegetables
Vegan Chicken Nuggets Are Coming to School Lunch Menus

16 vegan and nut-free snacks for kids
Get FREE vegan recipes delivered to your inbox by joining our award-winning VegNews recipe club.
Register
Get FREE vegan recipes delivered to your inbox by joining our award-winning VegNews recipe club.
Register